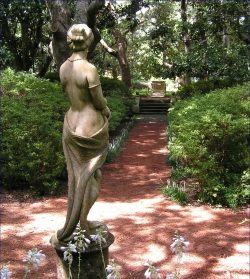 Independent scholar and award-winning playwright Diane Baia Hale is fluent in the realms of the present and of the past. Specializing in the theatre of ideas, she uses her command of both language and human psychology to present striking images of men and women struggling to maintain their personal integrity against forces determined to destroy it.  Leavened with wit and humor, Diane's characters not only inhabit their own worlds, but reach out to resonate in our own. Her most recent scholarly research and artistic projects focus on the forgotten 19th-century pioneering American female artist, Louisa Lander. Her award-winning play about Lander, The Marble Muse, has been seen in numerous venues across the country.
---
NEWS:
*** Please join Diane for her presentation, "Lost Lady: Louisa Lander, Nathaniel Hawthorne, and the Hunt for a Forgotten American Sculptor" at Ventfort Hall Mansion and Gilded Age Museum, Lenox, Massachusetts, at 3:30 p.m. on Saturday, May 6. A Victorian tea will follow. https://gildedage.org/events/tea-talk-lost-lady-louisa-lander-nathaniel-hawthorne-and-the-hunt-for-a-forgotten-american-sculptor/
*** Diane recently rediscovered a forgotten work by Louisa Lander, the real-life protagonist of Diane's historical play The Marble Muse and her upcoming novel of the same name. While pursuing her research into Lander and the artist's hometown of 19th-century Salem, Massachusetts, Diane acquired a copy of the 1892 Visitors Guide to Salem. On page 35 of the volume, she found a brief description of "an excellent medallion likeness of Mr. [James Oliver] Scripture moulded by Miss Louisa Lander, the well-known artist . . ."
Diane was dumbfounded. Despite being an expert on Lander, she had never encountered a reference to this particular work in any of her research. In 1892, the piece was located in St. Peter's Episcopal Church where—according to the guidebook—Lander had been a parishioner. Was the sculpture still there? Had it been removed during a building remodel or otherwise destroyed? The Covid pandemic prevented Diane from traveling to Salem to examine the medallion until the spring of 2022. She reached out to the church's current rector, Reverend Nathan Ives, who was unfamiliar with Lander but who wholeheartedly welcomed Diane to pursue her quest.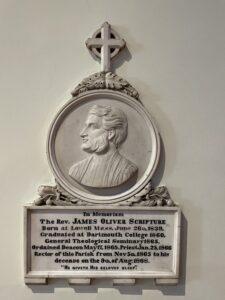 And on May 17, 2022, Diane arrived at St. Peter's, and there, tucked away in the apse, was indeed the memorial medallion described in the guidebook—a medallion whose carving reflected Lander's distinctive hand. One of her "lost works had been found! 
Diane and Reverend Ives were thrilled beyond measure to uncover this forgotten treasure. Louisa Lander's medallion of Reverend Scripture (a former church pastor; could the name be more apt for a man of his profession?) is currently featured on St. Peter's weekly candlelight history tours. More people thus will be learning of this remarkable woman artist, whose career was thwarted by the 19th-century equivalent of a #MeToo scandal. As for Diane,  her mission to identify more of Lander's art continues . . .
---
OF NOTE: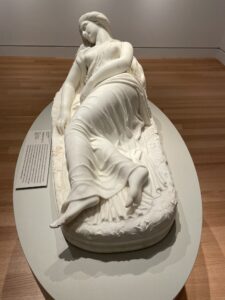 *** The Marble Muse: A Novel of Artistic Intrigue. This work will be an         expansion of Diane's play about 19th-century sculptor, Louisa Lander.
    *** Another of Lander's "lost" works, "Evangeline", has been recovered and is   now on view at the Peabody Essex Museum (PEM) in her hometown of Salem,   Massachusetts. Diane was able to provide the PEM with information regarding   the sculpture's provenance. After a century and a half of obscurity, Lander's   star is on the rise!
---
PRE-COVID HAPPENINGS:
The Marble Muse was honored as a winner for the Jewish Ensemble Theatre's 2019 JETFest and received a staged reading on Monday, June 24, as part of the theatre's annual festival. The Marble Muse was previously named a winner for Capital Repertory Theatre's NEXT ACT! New Play Summit 6 and for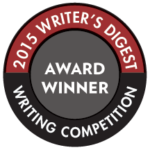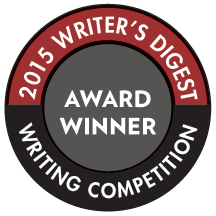 Boomerang Theatre Company's First Flight Festival, and took third prize in the 84th Annual Writer's Digest Writing Competition in the Stage Play Category.  A semi-finalist for the Eugene O'Neill Theater Center's National Playwrights Conference, The Marble Muse also earned third prize for the Henley Rose Playwright Competition for Women, with additional honors including: finalist, Theatricum Botanicum's Seedlings Series; finalist, Echo Theatre's Big Shout Out New Play Contest; and honorable mention, Ohio State University—Newark's New Play Contest.
---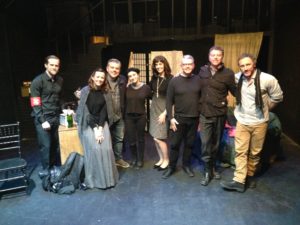 Thank you to everyone at The Blank Theatre in Hollywood, California, for your stellar job on Diane's play, The Rake of His Heart (previously titled Rake),  which was developed through The Blank Theatre's Living Room Series and culminated in a staged reading on Monday, February 18, 2019.  Pictured above right are: Burt Grinstead (Rausch), Kirsta Peterson (Virginia Hall), Andrew Lynford (Director), Jamie McRae (Simon), Diane Baia Hale (Playwright), Richard Shelton (Denis Rake), David Nevell (Max Halder), and Joel Bryant (Henri). The play has been named a finalist for the Arch and Bruce Brown Foundation Play Competition and a semi-finalist, Pride Films and Plays Contest.
---
Diane's historical drama The Wisdom of Serpents is now available at Barnes and Noble, Amazon, and your local bookstore! You can also check out her Amazon Author's Page as well as her space on Goodreads. The Wisdom of Serpents was a finalist for the 2009 Jane Chambers Award as one of the top five adjudged that year.