Independent scholar and award-winning playwright Diane Baia Hale is fluent in the realms of the present and of the past. Specializing in the theatre of ideas, she uses her command of both language and human psychology to present striking images of men and women struggling to maintain their personal integrity against forces determined to destroy it.  Leavened with wit and humor, Diane's characters not only inhabit their own worlds, but reach out to resonate in our own.
THE LATEST NEWS ABOUT THE MARBLE MUSE:
Diane's newest play The Marble Muse has been named a winner for Capital Repertory Theatre's NEXT ACT! New Play Summit 6 and will have a staged reading on Sunday, October 22, 2017, at 5:00 at Proctors GE Theatre in Schenectady, New York.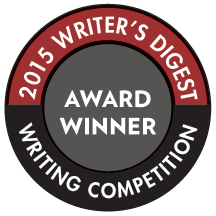 The Marble Muse was a winner for Boomerang Theatre Company's 2016 First Flight Festival and took third prize in the 84th Annual Writer's Digest Writing Competition (2015) in the Stage Play category.  A semi-finalist for the Eugene O'Neill Theater Center's 2015 National Playwrights Conference, The Marble Muse also earned third prize for the 2015 Henley Rose Playwright Competition for Women.  It was a finalist for Theatricum Botanicum's Seedlings Series, as well as a finalist honoree for Echo Theatre's  Big Shout Out New Play Contest for Women Playwrights, and received an Honorable Mention for the Ohio State University—Newark 2015 New Play Contest.
MORE NEWS ABOUT THE MARBLE MUSE: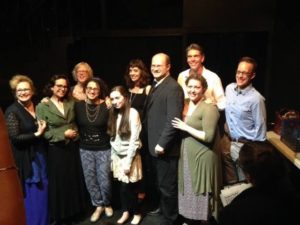 Thank you to all the wonderful people at The Blank Theatre in Hollywood, California, for their outstanding work on the Living Room Series staged reading of The Marble Muse on Monday, October 24!!!  Pictured below are Elizabeth Dennehy (Sophia Hawthorne); Belen Greene (Hattie Hosmer); Creative Producer, Jennie Webb; Director, Rachel Berney Needleman; Joey Maya (Una Hawthorne); Playwright, Diane Baia Hale; Andrew Thacher (William Wetmore Story); Christopher Franciosa (Nathaniel Hawthorne); Abigail Marks (Louisa Lander); and Weekly Producer, David Dickerson.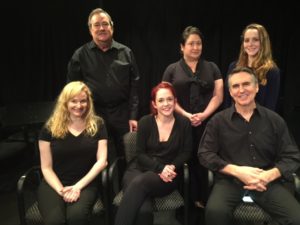 Thanks also to Echo Theatre in Dallas, Texas, for their performance reading of The Marble Muse as part of its Echo Reads Salon Series on November 15.   Much gratitude goes to producer Eleanor Lindsay and Director Mike Scudday, as well as the stellar cast.  Pictured below are: back row — Kim Titus (William Wetmore Story), Kateri Cole (Sophia Hawthorne), Claudia Smith (Una Hawthorne); front row–Ginger Goldman (Hattie Hosmer); Barrett Nash (Louisa Lander); Bill Jenkins (Nathaniel Hawthorne).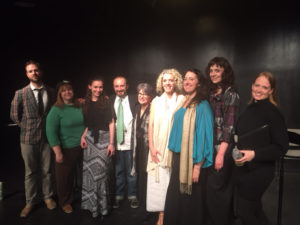 And additional thanks to everyone at Boomerang Theatre Company  (http://www.boomerangtheatre.org/) in New York City who made the staged reading of THE MARBLE MUSE, one of the winners of the 2016 First Flight Festival of New Plays, such a success.  The Big Apple is beautiful!  From left to right: Tom Frank (Nathaniel Hawthorne), Cailin Herffernan (Director), Leah Voysey (Una Hawthorne), Vinnie Penna (William Wetmore Story), Theresa McElwee (Sophia Hawthorne), Jennifer Larkin (Louisa Lander), Stephanie Rosenberg (Hattie Hosmer), Diane Baia Hale (Playwright), Annalisa Loeffler (Stage Directions).
The Marble Muse has also had staged readings at Yellow Rose Productions in Knoxville, Tennessee; GetLit(erary) at Le Petit Marche/Williams Street Repertory in Crystal Lake, Illinois; and the Greenhouse Theater Center in Chicago, Illinois.
In June, 2016, Diane delivered a paper entitled The Marble Muse: Nathaniel Hawthorne, Louisa Lander, and the Crucible of American Art at the summer meeting of the Nathaniel Hawthorne Society, held this year in Stowe, Vermont.
Diane is also at work on a nonfiction book further exploring the relationship between sculptor Louisa Lander and author Nathaniel Hawthorne that she first depicted in The Marble Muse.
Diane's historical drama The Wisdom of Serpents is now available at Barnes and Noble, Amazon, and your local bookstore! You can also check out her Amazon Author's Page as well as her space on Goodreads.  The Wisdom of Serpents was a finalist for the 2009 Jane Chambers Award as one of the top five feminist plays adjudged that year.